On Saturday 27th April I joined 48 Salisbury Trekkers on a trip to China to walk the Great Wall of China in support of Salisbury District Hospitals Stars Appeal.
We all signed up in 2018 and have been fundraising and training for over a year!
We arrived in Beijing at around 3.30pm local time to be greeted by our Chinese guides Alan and Dennis! Our first night was spent in a Mountain hotel, a converted Military base that gave us our first views of the wall when we woke the next day. After a breakfast of bread, porridge and eggs and having packed our rucksacks and filled our water bottles, we headed upwards to take our first steps on a 6-day trek that would see us walk in temperatures of 33 degrees, on parts of restored and un-restored wall, through local villages and homestays – which provided both physical and mental challenges along the way.  The Chinese people were welcoming but fascinated by this group of 49 people – plus guides and doctors – walking in and through their villages and were keen to have their photo taken with us as well as record us on their mobile phones!
Our group was a mix of ages, Grace the oldest being 75 years old, all with many different reasons for taking on the challenge of the Great Wall. Most of us managed just 4-5 hours of sleep each night and each morning, the steep climb up to join the wall seemed harder and harder. We walked through many terrains, mountain paths, wooded areas, crumbling sections of wall and across sheer drops but we supported each other each step of the way and together we have raised over £100K for the Stars Appeal.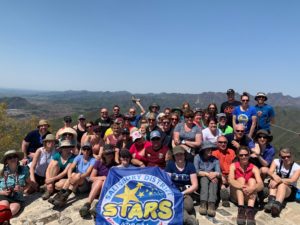 I wanted to say a huge THANK YOU to everyone who has supported me with my fundraising, donations and words of support and encouragement. When I arrived back in the UK my fundraising total had risen to £9600 which is just amazing!
I will be blogging about my trip in more detail and sharing more incredible pictures of the trek so watch this space!
There is still time to support Lynne with a donation on her Just Giving page.