Amazing!
I am so glad I came across a job advert from personal placements and applied, they were just what I needed during a difficult period. Within a day of having been contacted by them I was able to start a temporary job on a week by week basis while we looked for permanent roles.
I have now been offered a permanent position at the same place and I'm excited to start.
Emily and all the girls were amazing and lovely, they truly care and get to know their clients, ensuring they are happy at every step, checking in often to provide updates and to reassure their clients. I can not express the level of appreciation I feel for the help I received and the kindness of the staff.
One Of The Good Ones
"I personally wanted to speak to you, to say thank you to you and your team for helping out. I appreciate it and it has been nice to deal with such a lovely team. I have spoken to a fair few recruitment agencies over the last couple of month and you should pride yourself on being one of the good ones!!" KJ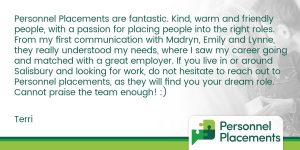 Simply The Best!
Personnel Placements simply the best. When looking at an agency for the first time I was not sure what to expect. I phoned around the local ones and they were the only ones who were so welcoming, friendly and professional. This impression continued through my initial visit and every other contact with them.
In terms of support to obtain work, the website is easy to check yourself and they were quick to contact me when a position became available.
After securing a placement their professional manner ensured easy dealing with pay and holidays which is just what you want.
I was offered a place very quickly which has turned into secured employment and one of the first congratulation notes I received was from Personnel Placements. I think this highlights the personal aspect they bring which makes them stand out from the crowd.
Interesting and Challenging Work
"Personnel Placements have been excellent in quickly finding appropriate jobs for me. Student holiday jobs are hard to find but Personnel Placements have swiftly found me interesting and challenging work that has fitted in with my university holidays and other commitments. After starting a job, Personnel Placements have been in regular contact with me to check my progress and have very quickly and efficiently resolved any issues that have emerged. I would strongly recommend them to any student seeking employment."
Their Service Is Exemplary
"We have worked with Personnel Placements for many years now. As our business has expanded their help and support in finding great candidates to join our team has been vital. Through their national network they have always found us quality personnel with specialist skills. The service is exemplary, every candidate placed with us has been a success and we have had genuine value for money each and every time. We can strongly recommend Lynne and her team to anyone, they are terrific." James Fry – Blue Frontier
We Have Some Great Personnel Now
"Actually I'll take this opportunity to thank you for firstly; for placing me here as a temp 2 years ago and secondly; all the help you and PP have given me in staffing the place, the business now has some very good personnel so well done for that. Funnily enough this wasn't the 1st permanent position you've found for me, a few years back (probably about 9 years ago now I think of it!) So our paths have crossed a number of times in previous years and they probably will do in the future "
Salisbury Hospice Charity
"Salisbury Hospice Charity recently used PP to secure our new Director of fund raising. The service we received was outstanding on every level from the first enquiry to the successful employment of the candidate the team at PP were outstanding. We would have no hesitation in recommending Lynne and the team at PP to any employers in the area who need to secure exactly the right candidate for the right job….these guys are the professionals! Ceri Hurford-Jones Chairman Salisbury Hospice Charity "
Personnel Placements Deserve 5 Stars
I do not normally write reviews, but I feel the ladies at Personnel Placements deserve 5 stars. I instantly believed when speaking to Lorren that they were genuinely going to get me a job.
The key to their success is excellent communication letting you know exactly what is going on every step of the way.They are extremely efficient and get things moving quickly. They are experts at building a good rapport with both their clients and companies they deal with. Each job I have undertaken as a temp has been an accurate match to me. This is a difficult thing to get correct but with there professionalism and experience they seem to get it spot on.
If you are looking for a job, do not hesitate to contact the ladies at Personnel Placements.
My First Job After Uni
"I received the good luck card you sent last week and just wanted to say a massive thank you for finding me temporary work over the past three years and for finding me my first job since leaving university! So far I am loving it here and am getting on really well with the team! Thanks again!" Lucy C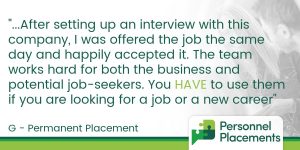 A Happy Ending
"I'm super chuffed and really excited; I didn't think had worked out after the interview but it turns out they liked me! I can't thank you enough for the opportunities and support you have given me over the last few months; it was a difficult and horrible time when I first approached PP for work, nothing was going right and I was hitting brick walls everywhere trying to get back into employment. You were the only agency I approached that properly listened to my situation and my experience, and how my transferable skills could be an asset to employers rather than a hindrance. I had been shot down by all the other Salisbury agencies that claimed that I was a poor candidate for admin based positions – something we both know is not true! I was desperate to get back on my feet and everyone at PP has been so kind.  I've become happier, more confident and motivated; its funny how a good job can turn everything around huh? In a age full of employment horror stories, I'm so glad this has had a happy ending. Once again, thank you so much for seeing the potential in me and not just a CV, I will highly recommend PP in the future to anyone looking for employment. Please circulate this email amongst the team to show them what amazing work they do and what a difference they have made!" Kate Blake
Professionalism Throughout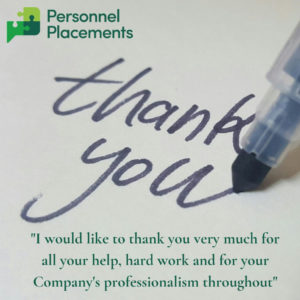 Emily is a star!
Very efficient and effective with a lovely personality.
The whole experience was very positive.
Personnel Placements are a very professional and caring company. They seem very warm and helpful when asked questions, and respond very quickly to emails etc. First class!
You HAVE to use them!
"Personnel Placements already has an amazing reputation in Salisbury, but I got to experience it first hand. I just popped in randomly with my CV and they were happy to meet with me right away. Within days, they were contacting me about a job that seemed perfect. After setting up an interview with this company, I was offered the job the same day and happily accepted it. The team works hard for both the business and potential job-seekers. You HAVE to use them if you are looking for a job or a new career".
G – Placed in a Permanent Position
A very professional friend approach to helping people to be either located into permanent jobs or temp. The support to those agency staff is second to none with well time updates and support. A special Thank you to Lorren Hulmes for her help and support.
Martin – Secured a Permanent Position
An Asset To Our Business
"Once again the team at Personnel Placements have done a great job. Sophie did a great job finding the right candidate and many thanks for your professionalism and support. I have every confidence that Stephen will prove an asset to our business."
Salisbury Small Business Owner
Very knowledgeable, very prompt, very helpful !
I worked in recruitment approximately 17 years ago, corporate on-site recruitment looking after three separate manufacturing sites. As with any business there is always good and bad. One negative I found with some is that they would promise things to a candidate or client but not carry it out.
Yourselves, however were completely different. You were very knowledgeable, very prompt, very helpful and friendly, very professional and you kept your promises. I was extremely impressed with you all from the beginning.
Unlike some of the others, I WILL be recommending you to everyone needing the support of a recruitment consultancy.
Like working with friends
I have worked for this agency several times in a temp capacity between jobs and now after retiring (from teaching). I cannot praise highly enough their constant efficiency, sensitivity and friendliness as a company. It is like working with friends.
Sally